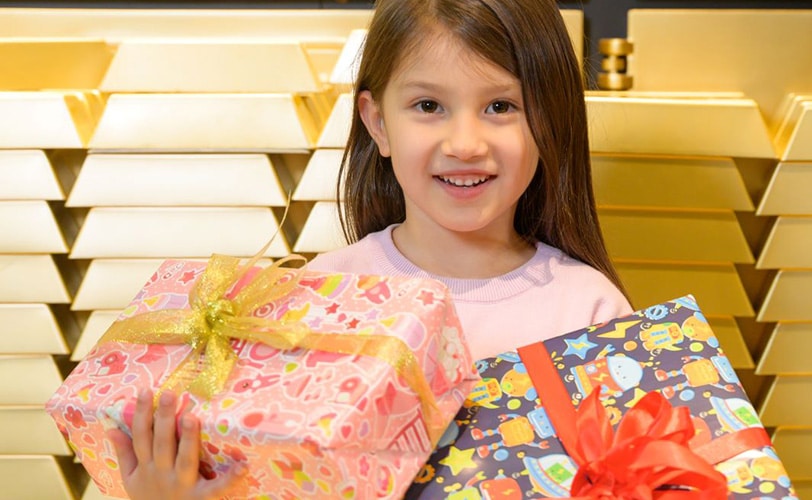 The Ultimate Kid's Birthday Party!
At MONOPOLY DREAMS Melbourne we specialise in Kids Birthday Parties making them feel extra special, truly excited & very entertained!
Journey through the wonderful world of MONOPOLY City and Mr. Monopoly's Mansion and experience Laser Maze, 4DX Cinema, Ultimate Banking and more… Bring your party to life with our immersive & interactive experience – guaranteed to create much laughter, fun and surprise for everyone!
A dedicated Party Room awaits all the guests to enjoy delicious food, refreshments and a Happy Birthday sing song to celebrate!
Choose from the Silver or Gold Package
Gluten, dairy, and vegetarian alternatives at your request
Eco-friendly flameless candles
Bookings will be available from 3 February 2024.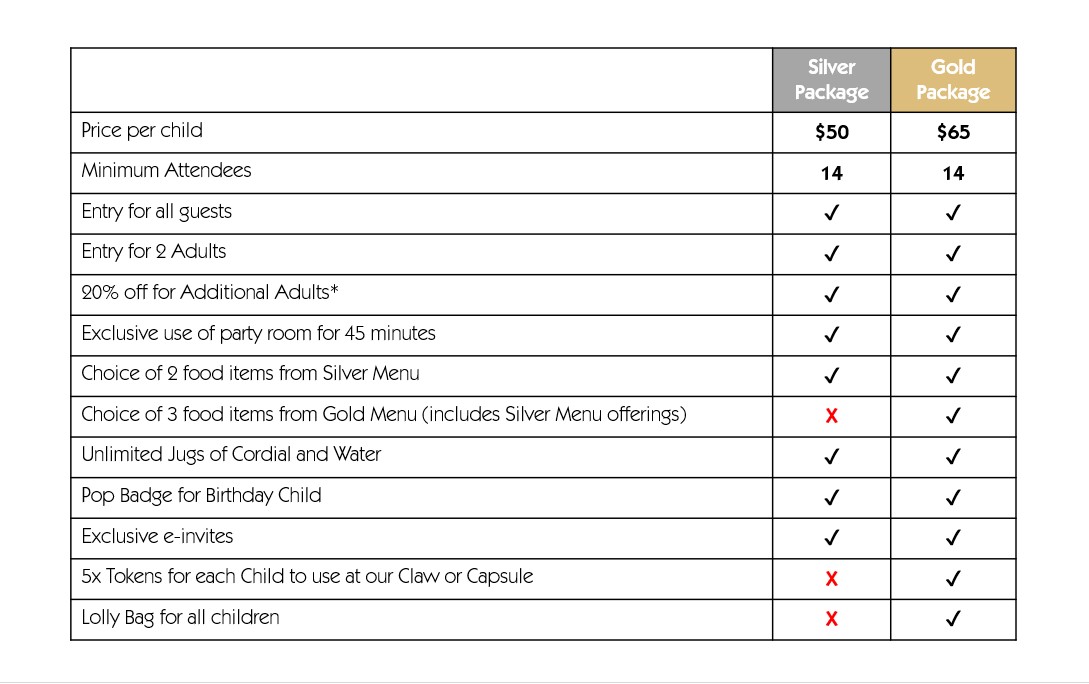 Choose Your Party!
MONOPOLY DREAMS Melbourne has two awesome birthday party options to choose from:
The Silver Package ($50 per child) features entry for all guests into the attraction, two free adults, choice of two food options from the Silver Menu, a pop badge for the birthday child and invitations.
The Gold Package ($65 per child) includes everything from the Silver Package, plus additional three menu options, 5 tokens for each child to use at our Claw or Capsule machine, and a Lolly Bag for every child.
Download Party Package comparison. Not sure which party package is right for you? Give us a call!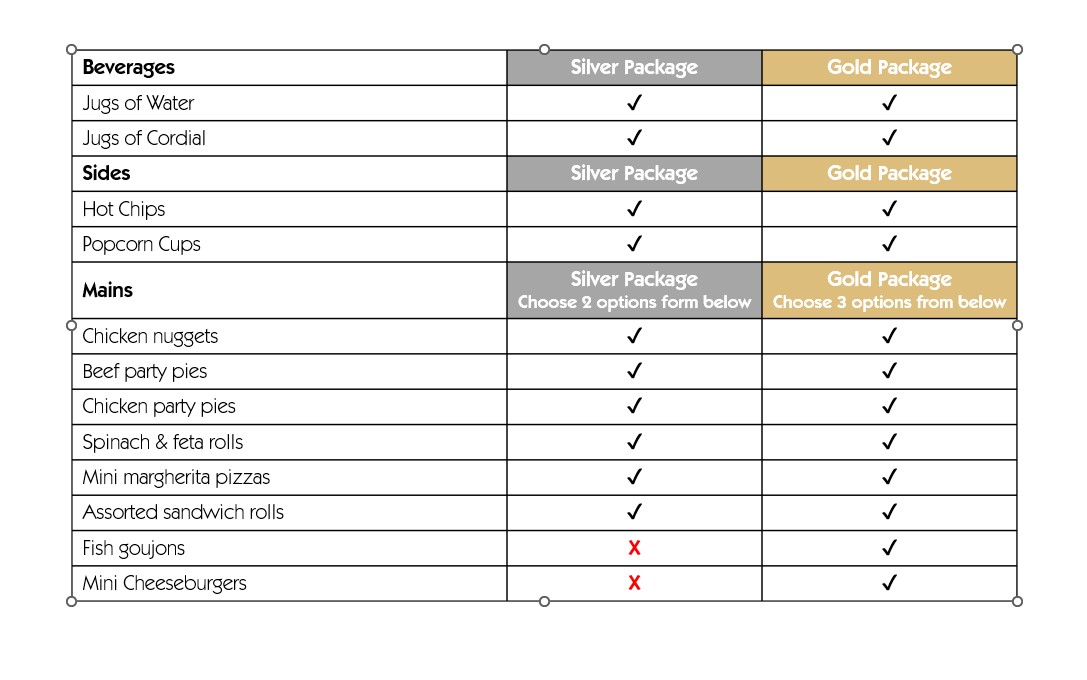 Birthday Party Menu
MONOPOLY DREAMS Melbourne offers delicious menu options for birthday parties. Our Silver menu is full of party favourites. Select two classics such as Chicken Nuggets, Beef Party Pies, Mini Margherita Pizzas, and more. Or if you're in the mood for something extra special, our Gold package lets you choose three favorites, including irresistible options like Mini Cheeseburgers and Crispy Fish Goujons.
Both packages come complete with sides of hot chips and popcorn cups, as well as an endless supply of jugs filled with refreshing water and cordial. Opt for Silver or go for Gold to ensure a delicious and memorable experience! 🍔🥇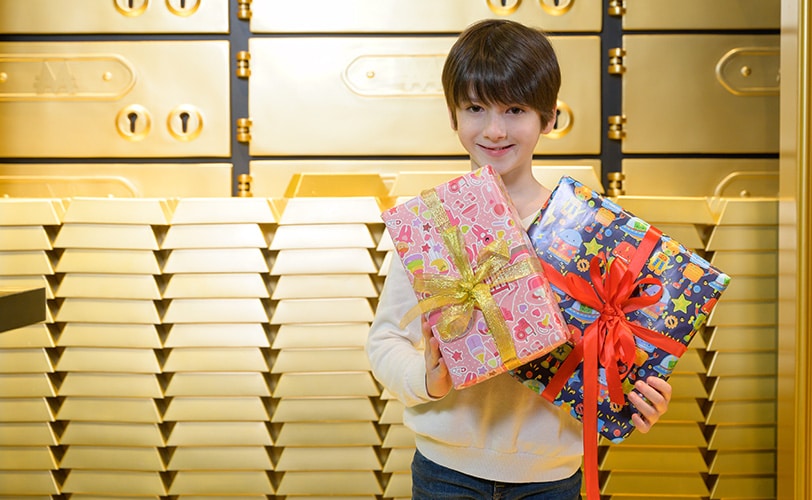 Want to Know More?
Download our Party Package comparison for ease!
Still not sure which party package is right for you? Call us now to enquire about how we make your child's birthday the best birthday yet – the ultimate destination at MONOPOLY DREAMS Melbourne!
Web: Birthday Party Enquiry Form
Email: party@monopolydreams.com.au
Phone: 03 8617 0250
More questions?
Check out our Birthday Party FAQ below.
Frequently Asked Questions
I am having trouble booking, who can I reach out to?
You can email or phone our team with the information below.
Email: parties@monopolydreams.com.au
Phone: 03 8617 0250.
Who can purchase Birthday Party Packages?
Birthday Party Packages are available to children aged 3 to 15 years only. For Adults who are keen to celebrate at MONOPOLY DREAMS Melbourne, we do offer corporate function packages.
Can you do twins or combined birthday parties?
Yes you can! Just add in the two names of the children in the names section, remember to put "and" in between the names so we know! E.g. "Andy and Bonnie"
What is the minimum number of kids to qualify for the birthday party package?
There is a minimum of 14 kids per party booking, the more the merrier we say!
My child is 2 years and under, are they charged?
Children aged 2 years and under are free of charge to enter the attraction, however food and other items such as Lolly Bags (in Gold Package) will not be provided.
Can I add on additional children?
All booking details, including final guest numbers must be finalised 2 weeks prior to the party date. You can email our Party Team to add on additional children anytime before the 2 week cut off. This ensures that we are able to accommodate all dietary and allergy requirements.
We cannot add additional party guests or adults to the booking after the 2 week cut off.
Are adults included?
Every Birthday Party package comes with 2 complimentary adult tickets. Additional adult tickets are discounted by 20% if purchased 2 weeks prior to the party date. Please contact our Birthday Party Team if you would like to add on additional adults.
Can I bring my own food?
No external food or beverage is permitted, unless in relation to a birthday cake or a food allergy which you have confirmed with us prior to the day of your party. You can purchase additional food and drink from our party menu 2 weeks prior to the party date.
What's in the Lolly Bags?
Our Lolly Bags include a mixture of lollies. If you have any specific dietary requirements and allergies please make us aware when booking or contact our Party Team.
What if my child has allergies or other dietary requirements?
At the time of booking, we ask that you list any allergies and dietary requirements for all party guests. We will reconfirm this with you 2 weeks prior to the party date.
Please note that parents must stay with their child if they have any allergies.
Where can I get the e-invitations?
Once your booking is confirmed, you will receive an email from us with a Party Information Pack which also includes the exclusive Birthday Party e-invitations.
How long do we get the party room for?
Each birthday party gets exclusive use of their party room for 45 minutes.
When should I arrive, and what happens when I arrive?
We ask that you and all your party guests arrive at least 15 minutes prior to your birthday party time, this will ensure that your party starts on time! Please line up at the left admissions kiosk which is reserved for parties.
Is there somewhere to store party gifts and other belongings?
We do not provide additional storage space outside the designated 45 minute party room time, we advise you to store your party gifts in the car.
Do I need to stay with the party?
We ask that the party is always supervised by an adult throughout the duration of the birthday party. We advise that you have 1 adult per 5-8 children. 2 complimentary adult tickets are included in the party package. Additional adult tickets are discounted by 20% if purchased 2 weeks prior to the party date. Please contact our Birthday Party Team if you would like to add on additional adults.
Are there tables for parents?
Your exclusive party room is available for 45 minutes. We do not have a designated area for parents. However, parents can use our MONOPOLY DREAMS Café seating area if available.
How long will the party go for?
Birthday Parties will have exclusive use of a private Party Room for 45 minutes, before heading into the attraction. Once inside, we generally advise to allow approx. 90 minutes to thoroughly enjoy all MONOPOLY DREAMS has to offer!
Is your attraction fully accessible?
MONOPOLY DREAMS Melbourne is an accessible venue. Unfortunately, at the present time some experiences within the attraction may not be fully accessible to those with limited mobility. For further clarification regarding accessibility or specific guest experience, please email us at contact@monopolydreams.com.au or call us on 03 8617 0250.
What items am I not allowed to bring to the party?
We strive to bring you everything you need to make your party a success! Unfortunately, there are some items that are not permitted including outside food (other than cake), decorations, cups, or outside entertainment.
How far in advance can I make a birthday party reservation?
We accept birthday party bookings 3 months in advance.
Are there any block out dates for birthday parties?
Our Birthday Party packages are not available during School Holidays or on all Victorian Public Holidays. This is to ensure the comfort of our guests during our peak periods.
Is there a booking deadline?
All birthday party bookings at MONOPOLY DREAMS Melbourne must be made at least 14 days prior to the birthday party date.
When do I have to confirm all my details by?
Final numbers and food preferences must all be confirmed 2 weeks prior to the party date.
Is there a deposit required to secure my booking?
We require 50% deposit at the time of booking and the remaining balance 2 weeks prior to the birthday party date. Your booking is not secured until deposit is made.
Please note: The deposit is non-refundable if you decide to cancel or change your mind once your party is booked.
What happens if there are some children who couldn't make it?
We are unable to process refunds for no shows. Substitutions can be made on the day in the event that a child cannot make it. We will still serve the same amount of food.
Where can we park?
There is plenty of parking on-site at the Melbourne Central car park, all party guests can get their parking ticket validated to receive discounted parking.
TERMS & CONDITIONS
The birthday party will start in the dedicated birthday party room with party food served. The birthday party meal booking is for 45 minutes. At the conclusion of the party meal, guests will enter the MONOPOLY DREAMS Melbourne experience which has an anticipated duration of 60 minutes.
Minimum party size is 14 children.
Two adults are included in the package price. Additional adult tickets can be purchased at 20% discount at the time of booking.
50% deposit is required at the time of booking. Balance must be paid two weeks prior to the party date.
Packages available to children aged between 3 and 15 years only.
Bookings are not secured till deposit paid.
Booking must be made two weeks in advance.
Final numbers must be confirmed two weeks prior to the party date.
Deposit is non-refundable.
No refunds for no shows.
No charge for infants 2 years and under, but no food and add ons will be provided.
Due to the popularity of our birthday parties, if you are late for your party, we are unable to grant you any additional time in the Birthday Party Room.
We will provide all plates, napkins, and utensils for the party.
Food and dietary requirement must be confirmed two weeks prior to the party date.
If the birthday child or party guest has food allergies, a parent or guardian must stay with the child at all times.
We do not allow outside food in the attraction. To request an ingredient list for birthday party food and beverage offerings, please contact the Party Team.
We are an indoor attraction, so socks and closed-toed shoes are recommended.
Due to safety regulations, candles and sparklers are prohibited inside MONOPOLY DREAMS Melbourne.
We recommend taking the presents down to your car before entering the Attraction. After your birthday party room session, the room must be vacated of all items in preparation for the next booking.
MONOPOLY DREAMS Melbourne is a cashless venue.
Carnival Game Tickets are not included in the party package price. They can be purchased from our on-site kiosks on the day of the event.
Capsule and Claw Tokens can be purchased from our on-site kiosks on the day of the event or added to your party package for extra fun. Gold Packages include 5 tokens.